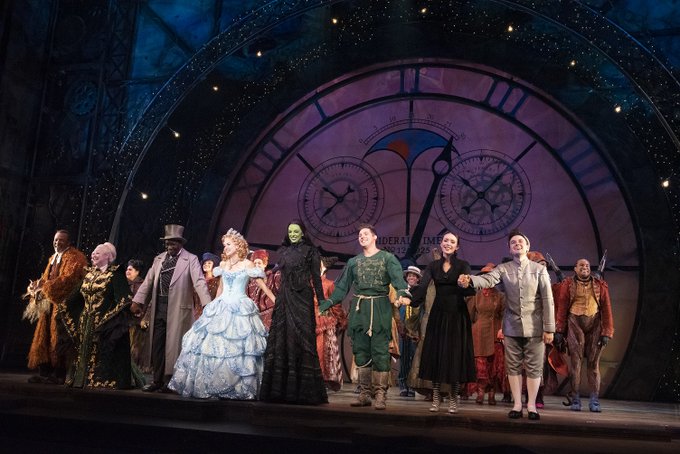 GOOD NEWS!!!!! The Award winning smash hit
WICKED
is back FOR GOOD!!! Last night, the show's ongoing 2nd National Tour (better known as THE MUNCHKINLAND COMPANY) took its first bow in Dallas, TX after 17 months of being abruptly shutdown due to the COVID-19 pandemic.
The packed audience at the
Music Hall at Fair Park
featured many of the show's super fans screaming, non-stop standing ovations, and so much more. WE COULDN'T BE HAPPIER to share this THRILLIFYING photo of the cast in action at that first curtain call back.
The show will continue DEFY GRAVITY in Dallas now through September 5th, 2021 before flying all over North America.
WICKED makes history as the first Broadway National Tour to reopen since Live Theater has been closed due to the COVID-19 pandemic. It's also the 2nd company of the show to be performed since the shutdown…. The first was its ongoing company in Korea.
Along with the tour, the Broadway production is set to reopen at the Gershwin Theatre on September 14th, 2021. Meanwhile, the London company is set to reopen the next day on September 15th, 2021 at the Apollo Victoria Theatre.
WELCOME BACK WICKED MUNCHKINLAND TOUR!!!!
Break legs!!!!
How exciting is this?!!!!