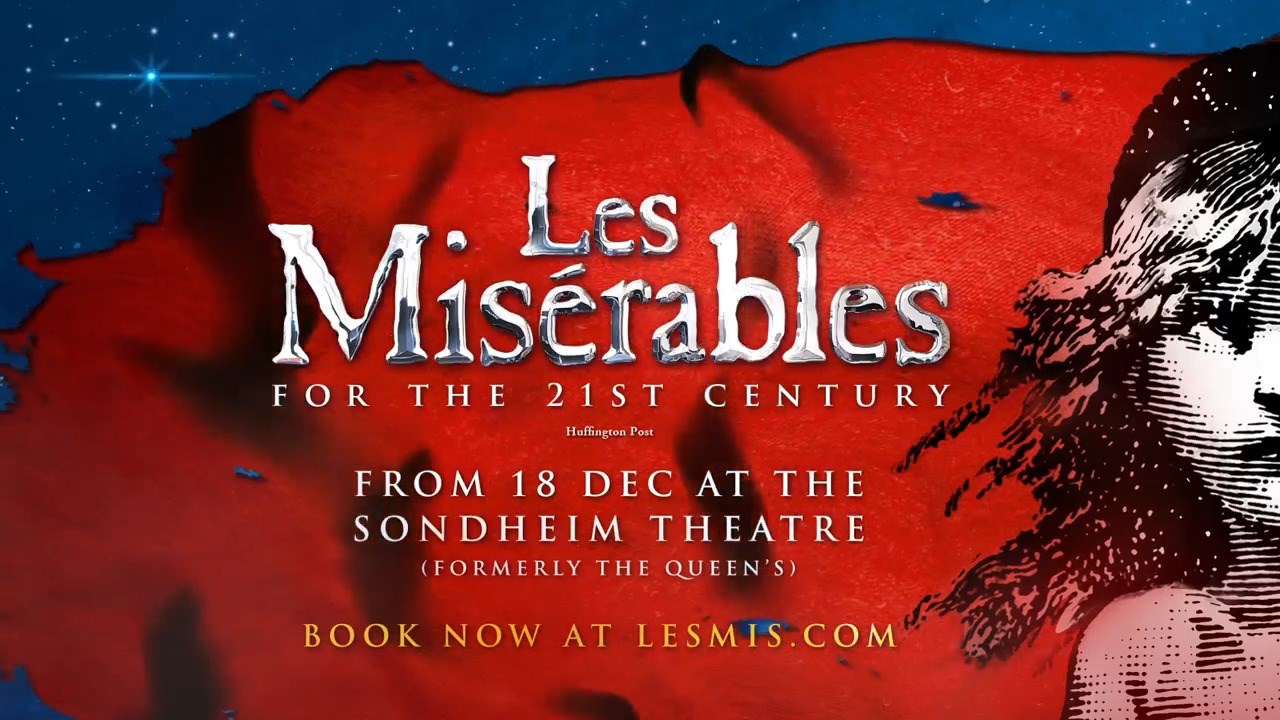 FIRST LOOK: Check out the all new trailer of the New Production of Les Miserables – Musical heading into the West End for the very first time this Holiday season. This trailer features footage of the current UK and Ireland Touring cast led by Killian Donnelly as "Jean Vailjean", Katie Hall as "Fantine", and more.
As previously mentioned, last night was a bittersweet and emotional day for Theater history as Trevor Nunn and John Caird's first and last standing original production (yup, known for its famous revolving set) ended its historical run in London's West End after 34 years and over 15,000 performances of DREAMING THE DREAM as THE WORLD'S LONGEST RUNNING SHOW IN WEST END HISTORY. Like we've said, it's not over for LES MISERABLES' time in London. The show's home at the Queen's Theatre (which by the time this new production opens, it will be renamed The Stephen Sondheim Theatre in honor of the iconic composer's upcoming 90th Birthday) will be going under a 4 month renovation expanding the lobby, building more restrooms, the backstage area, and the auditorium.
During this interim, LES MISERABLES will re-open next door at London's Gielgud Theatre with a semi-staged All-Star concert production playing for a strictly limited run of 16 weeks only from August 10th, 2019 – November 30th, 2019. With a full cast and 65 piece orchestra, this new production will be led by Alfie Boe and John Owen-Jones alternating in the role of "Jean Vailean", Michael Ball OBE as "Inspector Javert", Carrie Hope Fletcher as "Fantine", Matt Lucas, as "Thernadier", and more.
From there beginning December 18th, 2019, the new production (created by Sir Cameron Mackintosh Ltd and directed by Laurence Connor back in 2010 for the musical's initial 25th Anniversary and is now being performed all over the world including having made a stop on Broadway in 2014) will officially open. For this production, it's well known for incorporating a mix of old elements from the original staging (including certain set pieces and costumes) plus new elements (including an LED screen projections incorporating original paintings from the novel's writer himself…. Victor Hugo). No casting for the new cast debut in the West End has been announced yet.
Who is excited for a whirlwind year of MIZery and hearing the people sing?
Who already misses the original staging?
Love our posts? Click here to follow us on Facebook!
Wanna Book a Tour? Click here!